\Aluminium die casting Moulds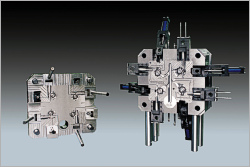 Once all the ordered materials are in the production phase begins with the manufacture of the most important components of the moulds for aluminium die casting: the die holder and the electrodes are built, the forging parts are rough-machined.

These works are always done under the direction of the project manager and in strict liaison with the production manager and the quality manager.

The quality control dept. checks all the dimensions on a 3D measuring machine.
Once the die holder, the forging parts and the electrodes are ready the material is sent to the supplier for the heat-treating.

Afterwards the certified hardness are checked and the forging parts are finished through manual polishing. The mould is then assembled and closed and its functionality is tested through a machine with the injection of a particular resin.


Once all the parameters are tested the first sampling is done. At the first sampling often occurs that incorrect dimensions are detected. This could require some modifications on the mould and a new sampling has to be done.
When the quality of the casting is good the customer has to give his written approval of the complete project.
Moulds for aluminium die casting have always to be delivered together with all the documentation regarding the project (certificates of the materials, heat-treating certification, copy of the CD containing all the project data).
The diesinker guarantees the routine maintenance of the tooling whereas the extraordinary servicing has to be agreed each time.
Design of tools for die casting